How to Draw House Plans With Ease





4.3
Votes:

16

(Rated: )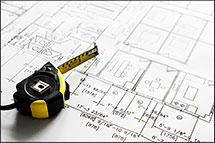 Decided to fulfill your dream and build a house? Then you have a long way ahead of you. Where to begin? Definitely with a detailed house plan that will serve as a "preview" of your future home. A house plan helps you design the best possible layout, foresee any flaws and fix them before the actual construction starts. If you are a real estate agent, such a plan will provide additional info on the property.
How to draw house plans if you have never done this before? Without proper experience, you'll drown in the sea of drafting, calculating and measuring. You'll have to think like an architect, and consider hundreds of things: the size and location of all rooms, stairs, glazing areas, building materials… How to avoid a mistake and not to turn your future heaven into a hellish nightmare? With a powerful program for DIY house plans, it will be easy as pie! Keep on reading to learn more about such software and discover 5 easy steps for creating your own house map.
House Plan Drawing: Digital vs. Traditional
A house plan is a scaled draft showing a single room, floor or an entire building from the above. There you can see walls, doors and windows, measurements, tags, basic design for furniture, etc.
Drawing plans by hand on paper is obviously cheaper. However, it's more time-consuming and rather difficult to draw everything correctly on the first try. You will also need lots of tools: scales, erasers, pens, pencils, and so on.
With special software, it is much easier to design your own house plan. You can quickly make a simple plan with dimensions right on your PC. If something goes wrong, you can easily take a step back and fix it. The program also helps you visualize your plan before the actual construction starts. You can create different designs, mix building materials and make fundamental changes without any hassle.
Prefer visual guides to text tutorials? Watch this video on how to draw house plans in Interior Design 3D. Follow the steps together with our speaker and creating a plan won't be a challenge for you!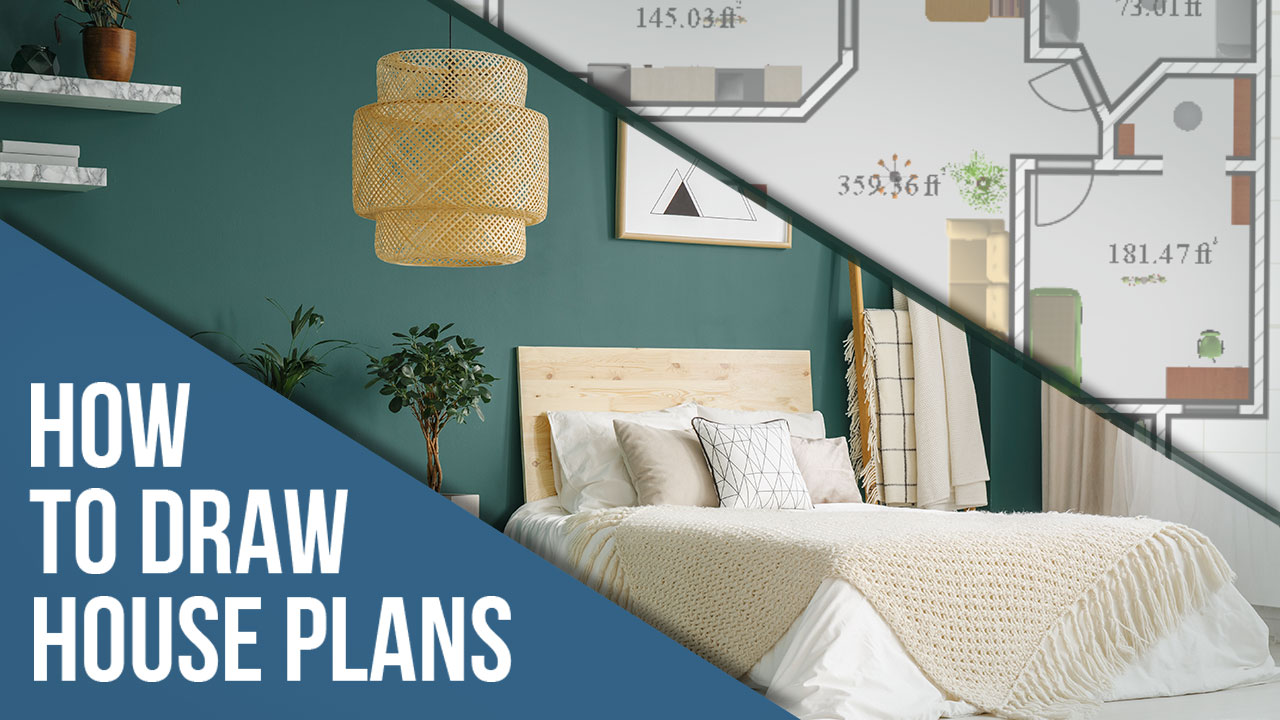 How to Draw a House Plan Step by Step
You can use Autocad or other popular programs to create a digital house sketch. Despite their powerful features, these apps are rather expensive and difficult to master. What's more, they often require a high-end PC.
We suggest checking out a different program - Interior Design 3D. It's powerful too, but very easy to use. You will finish your draft in a few minutes! Here is what you need to do:
Step 1. Create a New Project
Open the software and choose the way to create house plans: start with a new project or use a house plan sample. Interior Design 3D also allows you to upload a plan drawn by hand. Just pick your image, mark a wall with the known dimensions and let the software calculate the right proportions. Then just outline the rest of the walls. Such digital remastering is very useful if you want to fix a few flaws or remodel the house you live in.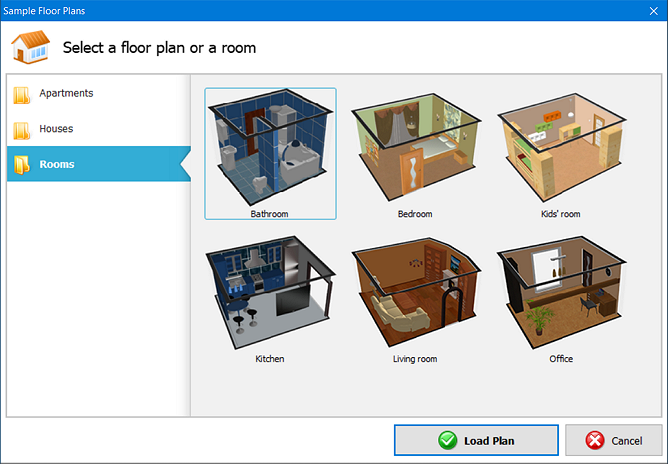 There are samples for rooms, apartments and houses
Step 2. Draw House Plans With Multiple Rooms
Add new rooms if you want to make your house bigger. Draw their walls manually: make a left click, drag the cursor to create a wall and finish it with another click. Alternatively, use a pre-made room shape. You can quickly resize the room you've added by dragging its edges. Use the blue handle in the middle to move the room around and align it with the cardinal directions.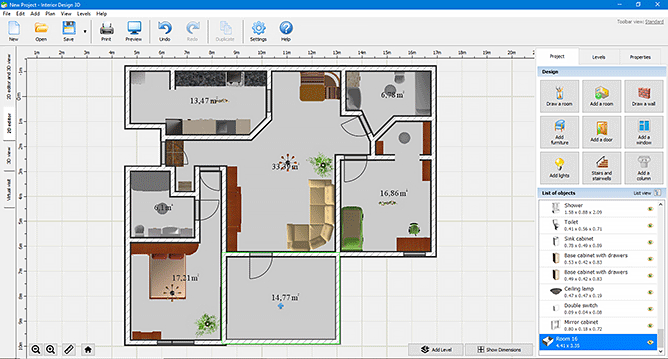 Consider the room type and shape
Step 3. Add Doors, Windows and Stairs
Continue with placing doors and windows. Pick a sample from the built-in collection and place it on your plan. Switch to the Properties tab to adjust the sample dimensions, position and design. You can easily move a door or window with a simple drag and drop.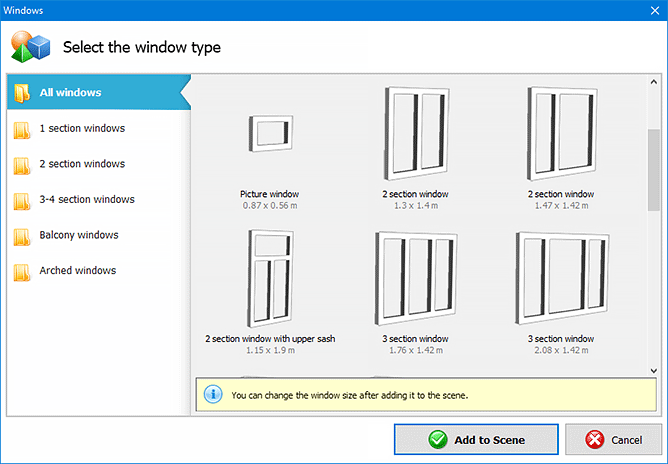 Use presets for doors and windows: standard, 2-section, 3-section, arches, etc.
Need to add stairs to your future house? Click Stairs and stairwells, then select a preferred stairs type. Customize its elements if necessary: the number of steps, handrails, balusters, etc. The Measure tool will help you check if there is enough room or you need to rearrange something.
Step 4. Furnish Your Future House
Click Add Furniture. There are lots of presets grouped in different categories: Living room, Kitchen, Kids' room, Bathroom and others. Select the preset you like and click Add to Scene, then place this furniture item onto the plan. Want to tweak its default design? Click Properties and select a different material from the built-in collection. There are 600+ textures: Wood, Fabric, Leather, Metal, etc.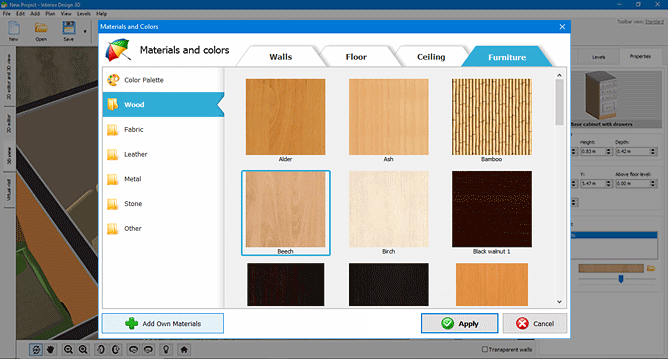 Haven't found a material to your liking? Upload your own!
Step 5. Save Your Home Construction Plan
Switch to the Virtual Visit tab and use the arrow keys on your keyboard to move around. Satisfied with the result? Save your plan in 2D or 3D, and print both views on one sheet, if necessary. What's more, you can export your creation to other 3D editors as a collada file.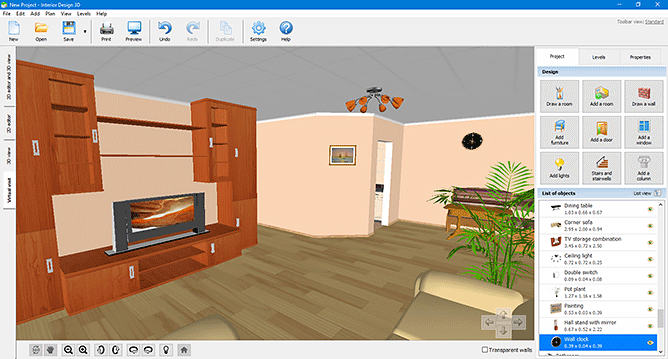 Take a look at your house and see how it will look like in real life
Create your house plan with Interior Design 3D! Start your free trial right now:
Download

Only 80 MB
What Are Pros of Digital Home Planning?

Flexible: You can easily fix most of the flaws and make changes to your house layout on-the-go. You won't have to erase the parts that need improvement or start all over again - just a few clicks and you're good.

Easy-to-use: Even if you are not an expert in house planning, you can still use Interior Design 3D without any trouble. Thanks to its simple interface and house plan samples, you can draw your ideal draft in no time.

Undemanding: You will need only your computer, and it doesn't have to be a high-performance machine. No additional tools like a liner, paper, knife or pencils are required.

Visual: With the 3D view, you can see your design in real life and even walk through the rooms you created. Note and fix all the flaws before starting the actual construction.
Now you know how to design and build your own house with Interior Design 3D. With this versatile software, you'll definitely enjoy the process and focus on new and interesting ideas. Just download Interior Design 3D and create a detailed house plan!