Download Interior Design 3D
Get started with a user-friendly blueprint maker and enjoy: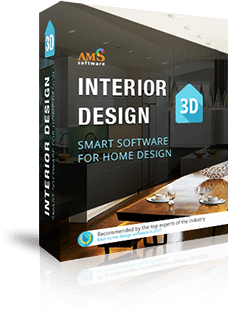 Intuitive floor plan creation
Exciting real-time 3D room design
600+ materials for interior decoration
Built-in library of furniture and appliances
Virtual walkthrough of your future home
Download Now!
Interface language:English
File size:80 MB
Interior Design 3D Software - Free Download
House remodeling involves a lot of stress and costly risks. To minimize them, architects use professional 3D interior design software, which have a steep learning curve. Fortunately, there are user-friendly alternatives. The free to download Interior Design 3D is one of them. It has an intuitive interface and a respectable collection of materials and finishes. Want to get a grasp on its exclusive capabilities? Upgrade to Pro! Here's the difference:
Free Version:
Library of pre-made interior mockups
Collection of materials & finishes
Up to 10 furniture pieces per plan
Easy export of your blueprint to PC
Period of use - 10 days
Interior Design 3D software will be helpful for beginner and amateur environmental designers, DIY enthusiasts, busy moms, and financially conscious families who want to make their home renovation cost-efficient. It will help you plan any room in your home: bathroom, kitchen, living room, bedroom, nursery, and office.
Interior Design 3D Software - Beginner's Guide
Want to get better acquainted with the interface and functionality of Interior Design 3D software? Download the program and get a smooth start in it by following the steps below:
Step 1. Hit the Download button above to get the program installation file on your PC.


Step 2. Start the installation by launching the file you downloaded. Follow the wizard instructions to launch Interior Design 3D on your computer.


Step 3. Run the interior planner. Open the startup menu and choose New Project or Sample Floor Plans. You can build your home from scratch, upload the existing blueprint or customize a built-in template to your own dimensions and style. Need a hand with completing a particular task in the program? Switch to the tutorial and check out an easy guide related to your case.


Step 4. Finish with your 3D interior design within the 10-day trial. If you need more time to design a polished blueprint that corresponds with the tastes of all your family members, consider upgrading to one of the paid plans.
Features You Get in Interior Design 3D Free Plan
The free plan of the interior design software (free trial) is available for all users whose computers run on Windows 10, 8, 7, and the latest Windows 11. This version will help you become more familiar with the program interface, create your first design projects, and try your interior solutions virtually. However, you will need to buy a key to save your project.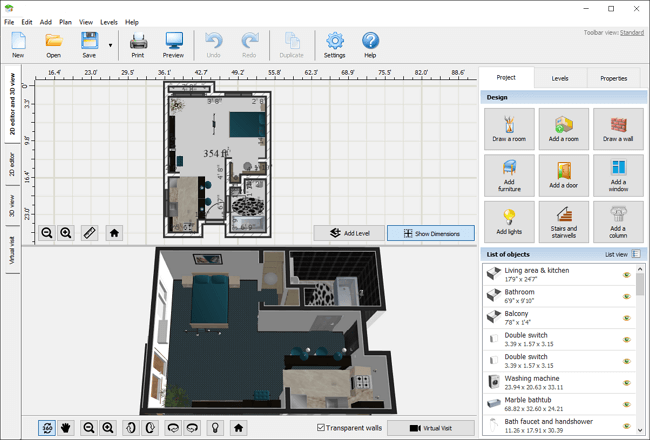 Think through each detail of your floor plan with the help of Interior Design 3D
Here is what you get within the free trial:
✔ Introduction to the software's interface. It is intuitive and easy to navigate, even for beginners. You get a free chance to check out the program's functionality for yourself and see if the interface meets your requirements in terms of convenience and capacity.


✔ Make an accurate visualization of your place. Draw a dimensionally precise plan of your apartment or house: add rooms of any shape, incorporate dividing walls, and adjust their length. Correct the sizes of the rooms any time you want instead of drawing your house sketch over.


✔ Customize the rooms with materials and finishes. Choose the perfect wallpapers, flooring, and ceiling materials to complete your rooms. Check out the in-program catalogs with 600+ decorative elements: tiles, laminate, parquet, carpeting, panels, etc.


✔ Furnish your virtual rooms. Choose furniture pieces and home decor items from the diverse library of the 3D home design software. Adjust their sizes and designs. Then find the perfect place for them in your 3D construction model.


✔ Inspect the environment of your creation. Interior Design 3D offers 3 preview options: 2D, 3D, and Virtual Visit - a rendering that allows you to preview your interior in the first person from every angle.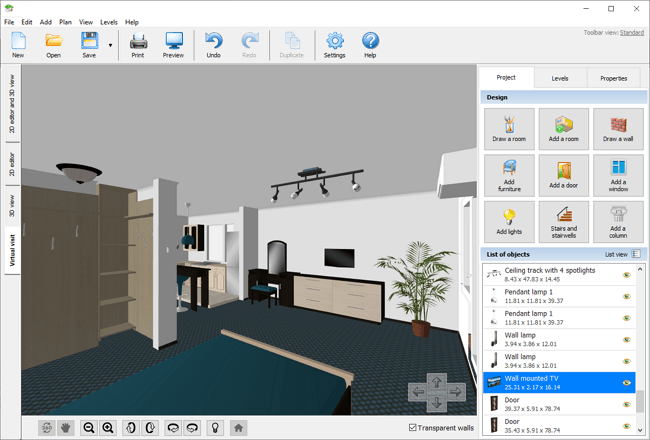 Give yourself a 3D walkthrough around the place with the Virtual Visit feature
The free version is available for 10 full days from the moment you run it on your PC. If you want more freedom in your interior design process, purchase one of the 3 advanced subscriptions from our website. Each one has an affordable price and grants lifetime access to the editor.
Are you the visual type of learner? Watch a video review of Interior Design 3D: