Virtual Room Planner - Bring Your Idea to Life!





4.2
Votes:

24

(Rated: )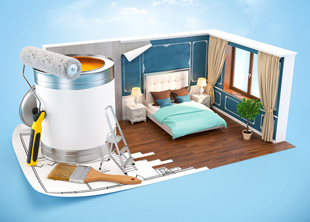 In search of some proper room planning tool? Then you might have become tired of numerous online house design services that require a stable internet connection and have a limited editing toolkit.
Want to have a tried-and-true program that works offline without fail? Interested in an enormous amount of editing and export options? Like to experiment with materials, textures and colors?
We suggest that you download Interior Design 3D - flexible room layout software for planning your home at your convenience.
Interior Design 3D Features
With Interior Design 3D, you can render your future space from principal constructive elements to the smallest interior details: main & curtain walls, doors & windows, furniture & lightings, switches & plugs. The program doesn't demand any significant training because of its user-friendly interface. Designing your house will be easy and pleasant. So, let's see how this virtual room decorator works.
Start from Scratch or Import Your Floor Plan
Start your home rendering with walling. You can draw a room of any shape. Want to renovate your existing house? Import the scanned plan from your computer, outline the layout with a drawing tool and begin decorating your flat. In the end, you'll get a perfect plan with real room dimensions and the precise distance between the objects: walls, windows, doors, cabinetry, and miscellaneous stuff.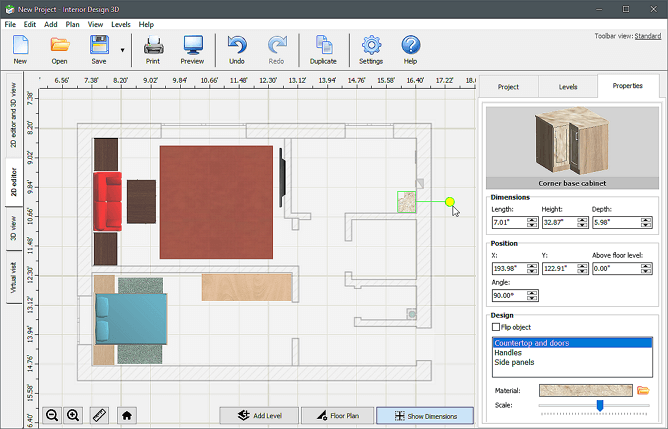 Draw your room or use the existing plan of it
Furnish the Rooms
Interior Design 3D software comes with an extensive library of furniture items for all room types (living room, kids' room, bedroom, kitchen, bathroom, etc.). So unleash your designer talents and put them to the test furnishing your new home! You'll surely appreciate the possibility to experiment with the materials of your future furniture: try different kinds of wood, leather, fabric, metal and stone. Use any color you like.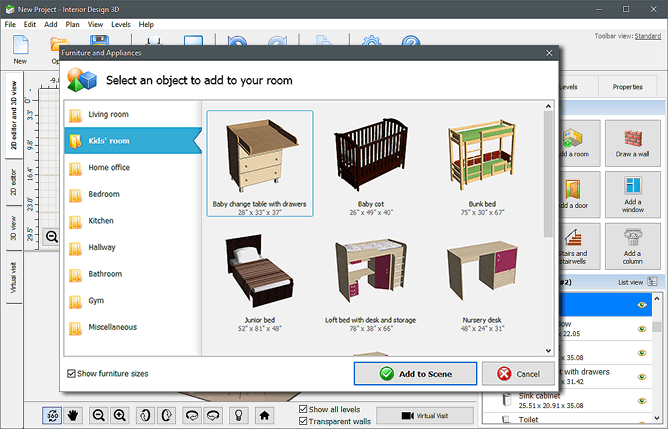 Try different furniture from the software collection
Decorate Your Home
One of the biggest advantages of Design Interior 3D is a tremendous collection of decorating materials. You can pick covering for your walls (wallpapers, wall tiles, stones or bricks), ceiling (tiles or panels), and floor (parquet, laminate, carpets and others) or add your own materials. Also, design your house with a fireplace, a piano, columns, a pot plant, or pieces for workout - you'll find them all and more in the software showcase.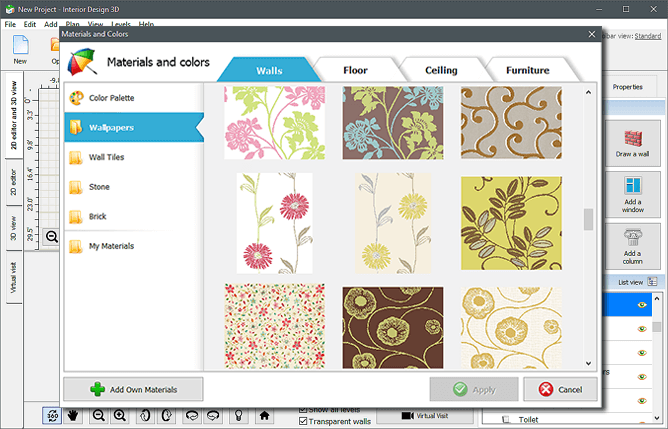 Play around with various wallpapers & floor covering
Take a Virtual Tour
How about taking a virtual tour of the whole space to see how it will look in reality? This room layout designer allows you to do it! You can view your project in 3D format, then walk along your new house, take a glance at all the interior details and decide if it's what you want your house to be. View it from inside, change the design and you'll surely come up with the style you love.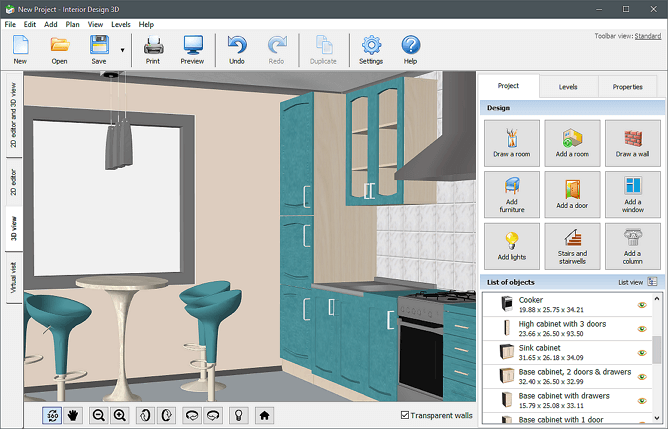 Take a look at your house from inside
Save & Export Your Room Plan
Are you happy with the fruits of your labour? Then save your project. You can be back to editing it any time. For example, you might want to try another color palette, different space zoning or other pieces of furniture. Also, you can save your floor plan as PDF or JPEG image or export it to external 3D editors. Print your interactive room design and take it to a furniture store or to a company that's going to remodel your lodging.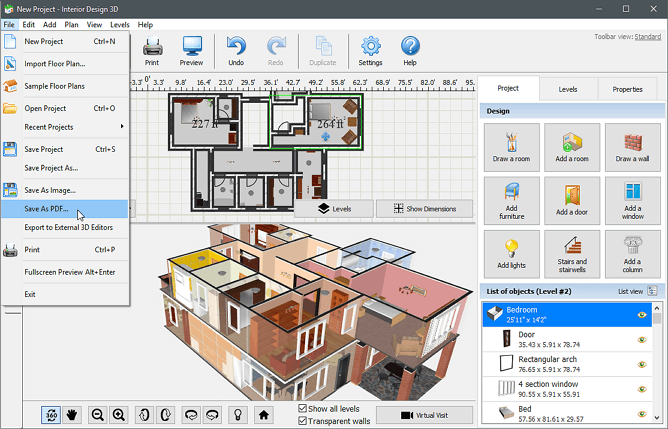 Save your project as an image or print it right away
Have tons of interior design ideas for small apartments? Eager to try all of them and still thinking what virtual room planner to choose? Stop hesitating and download Interior Design 3D right now - with it, decorating your home will turn a real pleasure!