Floor Plans for Real Estate Agents





5.0
Votes:

2

(Rated: )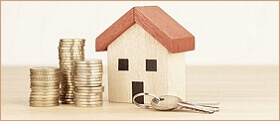 Do you make your living as a realtor? A clever way to attract more clients and increase your sales and rentals is to employ real estate photography for the properties you manage: include precise dimensions, specify rooms, demonstrate furniture layout, etc. Stats speak for themselves:

Over 20% of clients report they ignore real estate ads lacking home plans with photos

Supporting real estate listings with blueprints increases click-throughs by over 50%

Above 30% of renters are less likely to reach out if they view lots with no layouts

All best-selling real estate services include floor plans of the properties they manage
Real Estate Illustrations - Best Blueprint Types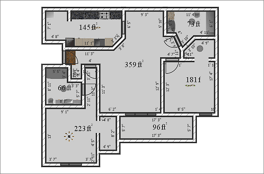 Schematic 2D Plan
This simplistic yet comprehensive type of planning defines the layout of every room in the property, staircases, furniture, dimensions of objects, and the free living space. It is a must-have for real estate marketing campaigns. It provides the customer with a visual description of all the technical details of the object.
3D Layout Model
Additionally, your publication could use a full-color 3D model illustrating the interior of the property you have for rent or sale: wallpapers, flooring, ceiling, furniture, decor, etc. With these floor plans for sale, potential buyers or renters will be able to visualize the place better and figure out whether it is what they are seeking.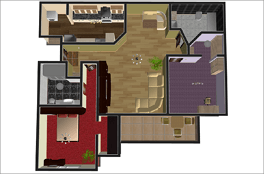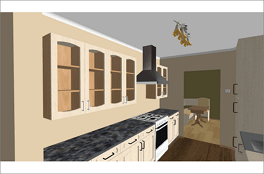 Virtual Rendering
Virtual floor plans for new homes will help your clients see the property from every angle, imagine their future routine there, and learn whether the place satisfies all their demands regarding the lighting, living space, and interior. This simulation of an in-person visit will increase the interest rate among potential buyers.
Need reliable real estate presentation software to serve your company?
Download Interior Design 3D!
Download

Only 80 MB
How to Create a Real Estate Plan for Your Business
Many architects use professional modeling programs like 3D Max to design blueprints. Such software can indeed help you make photographic plans of the property. The major disadvantage of these programs is that they are pretty complicated, never cheap, and take time to master. If you haven't got extra days for studying an editor, check out lightweight floor plan software for real estate agents. Meet Interior Design 3D, handy software for real estate layouts of all kinds: townhouses, multi-story buildings, apartments, offices, etc. The program has an intuitive interface, so you will be able to perform the job efficiently.
It takes only 3 steps:
Step 1. Design a Digital Blueprint of the Property
Choose New Project to create a house layout from scratch with all the precise dimensions or import an existing one. When modeling a brand-new plan, grab the Draw a Room tool and mark all the walls. Use the Add a Room tool to include ready-made spaces of any shape, and adjust their dimensions by pulling the walls in the 2D preview window. Employ the other features on the Project tab to add windows, doors, dividing walls, staircases, and columns. Go to the Properties tab to address the height of the walls.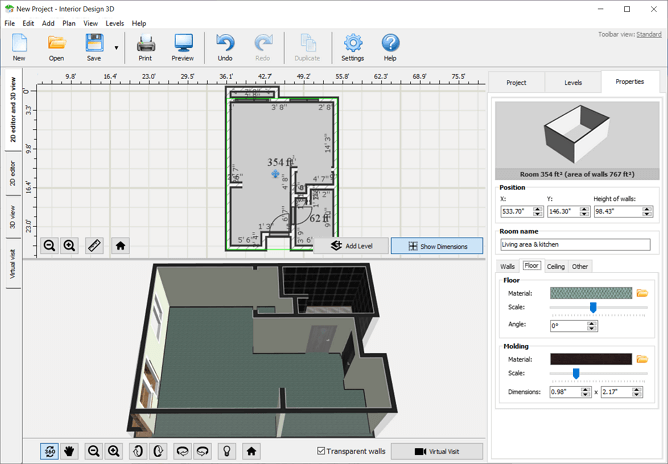 Draw the rooms of the property in 2D
Step 2. Demonstrate the Furniture Layout
Move on to decorating the place on the property floor plan: select a room, switch to the Properties tab, and choose the needed wallpapers, flooring, and ceiling from the built-in library of materials. Now, start furnishing the place. Use the Add Furniture tool on the Project tab to choose the needed furniture pieces and position them in the environment. Add light sources to your rooms. Want to change the design of an item? Select it on your real estate drawing and switch to the Properties tab to tweak it.
Demonstrate the furniture layout and the interior in the property
Step 3. Save Your Real Estate Blueprints
Once you finish planning, use the Virtual Visit feature to see whether your plan looks similar to the property in real life. Want to include visuals of particular angles in the property in your database? Click Save As Image and export the preview in the 3D Interior mode. If everything looks good, save or print the plan as a 2D blueprint, 3D layout, or both on a single page for your real estate flier.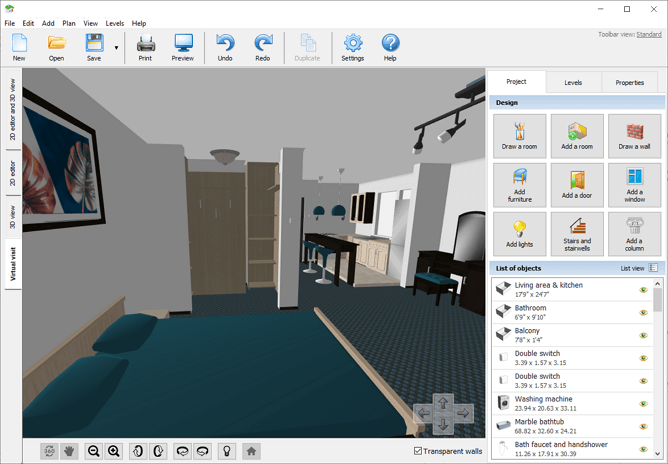 Preview the interior of the digital property with a rendering
Easily and quickly, you will be able to make all kinds of floor plans for realtors. With Interior Design 3D, you don't need any previous experience in 3D modeling to make a solid plan. Its intuitive interface and consecutive algorithms will gently take you through the process. Besides, this real estate floor plan software offers a collection of 600+ furniture pieces and finishes, which you can enrich by importing your own library of materials. Thus, you will make your plans look realistic and comprehensive. Get the Interior Design 3D free trial today or install its full version at an affordable price.