House Remodeling Software for DIY Enthusiasts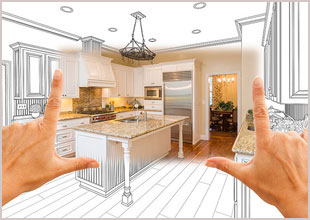 When it comes to renovation, busting the initial budget is everyone's biggest fear. If you want to avoid nasty surprises, you need to plan everything well ahead before your grab a hammer or call a contractor.
Of course, you can draft up your design ideas on paper, but using multi-functional house remodeling software is much more efficient - it lets you immediately see the final result and make changes if needed.
With proper software for 3D home design, you will be able to recreate your current floor plan and examine it from each angle, deciding over what room needs some renovation, and what decoration materials should be chosen. That way you will cut all the extra expenses at the starting point, and will think over all the necessary steps. Not sure what features are the most significant in such applications? Below is a list of functions you should look for if you want to remodel your house.
Searching for home design software?
Download Interior Design 3D and enjoy:
Intuitive drawing and design
600+ home décor materials
Rich furniture library
Import Your Current Floor Plan
When you decide to renovate your house or apartment, you do not make a new project from scratch – you rethink the space you live in and change its decoration. After you have launched your house remodeling program, you just import the existing floor plan drawn by hand and then scanned, or the one you have got from an architect. Trace over the source image, and the application will automatically build walls and create a 3D house model that can be easily moved and closely examined.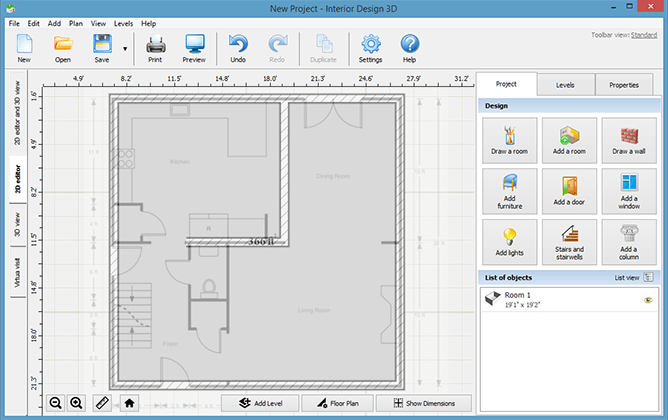 Trace over the lines of the source image to get a 3D house model
Remodel the Living Space
If you want to increase the living space or make an additional room, you can remove the existing walls or add new ones. The corresponding 3D house model will instantly adapt to your changes. After that, insert multi-sectional or balcony windows, replace the old doors with double ones and even arches of different shapes. The smart staircase constructor enables you to change the size of steps, their total number and style of railing to make your staircase easier to climb.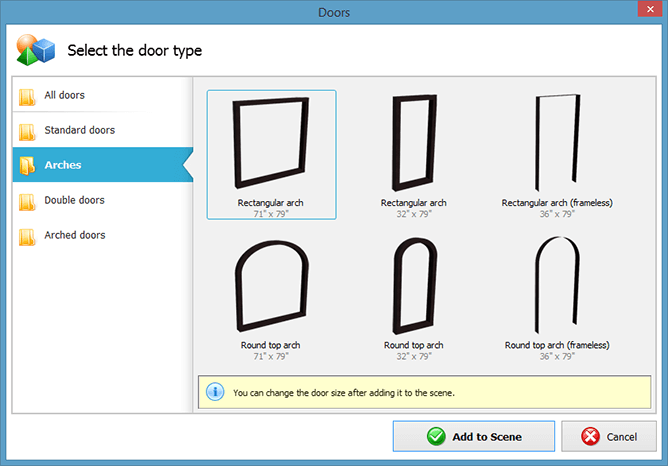 Walls, windows, doors and staircases are easy to move or replace
Choose Home Decoration Materials
Well-equipped house renovation software provides tons of decoration materials for walls, floor and ceiling. In the built-in gallery you can find parquet, laminate, linoleum, carpet or various types of stone for outdoor and indoor home design. Try different types of wallpapers and wall tiles that will give your house a fresh look. Do not forget about the ceiling, and pick suitable tiles or panels before hanging a new lamp.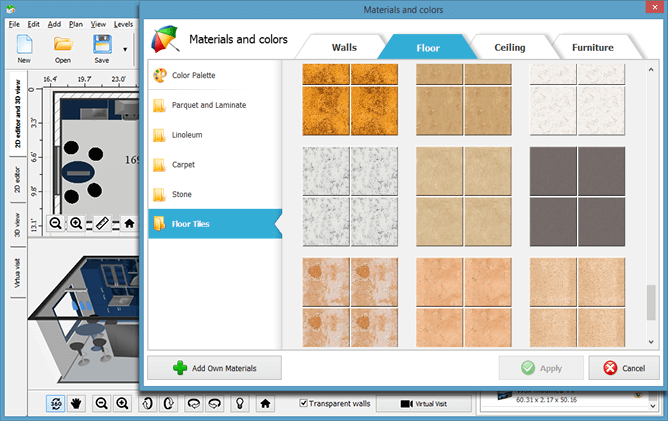 Try different wallpapers, carpets and tiles to see what suits you best
Arrange Furniture in the Rooms
If you plan to buy a new couch or wardrobe and need to fit it into your room, you can make it much less challenging by using house makeover software. With the help of its Measure tool you will see the size markers of your furniture and learn how much space is left between two chosen items. After everything is perfectly arranged, you can change the materials to make sure the new color palette goes together with the existing design.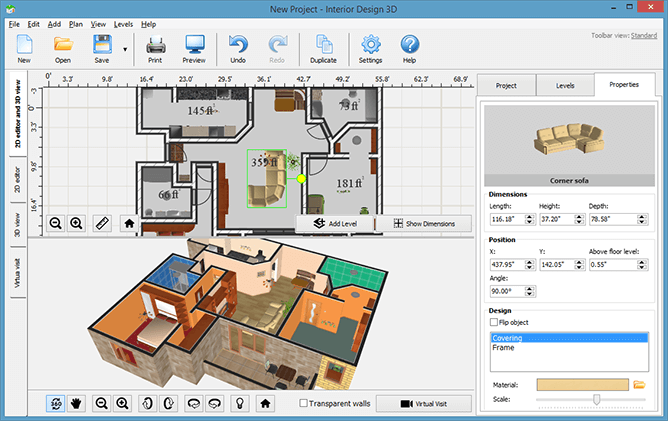 Check out how your new furniture will look in the interior
Save & Print the House Project
When you have tried all the possible variants on the 3D model in your remodeling software, it is high time to start bringing your bright ideas into life. In order to give your contractor clear instructions and have something to refer to, save the project of your renovated house as PDF, JPEG or PNG. Print the floor plan and 3D model you edited on separate sheets of paper or combine them on a single one.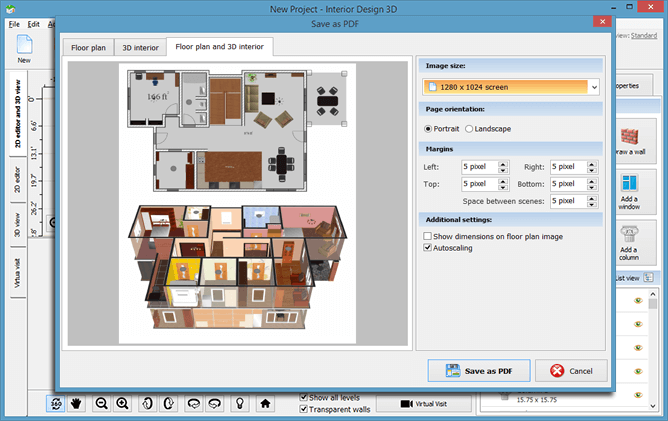 Save the house project you worked on and get started with remodeling
Thinking of remodeling your house or apartment? Do not dive into the process before you weigh all the possibilities. Download 3D home design software like Interior Design 3D, and you will get a chance to do everything yourself without wasting your family budget on something that will not even fit into the interior. Make a new floor plan with all the design changes and bring it to life!